The former longtime conference rivals Oklahoma and Nebraska met for the first time in 11 seasons (2010 Big 12 Championship game) and 87th overall.
Nebraska and Oklahoma have combined for 96 conference championships in their history. Oklahoma (50) and Nebraska (46) rank first and second nationally in conference titles.
Remarkably, Oklahoma or Nebraska (or both) won or shared Big Seven/Big Eight titles in 44 of the conferences' 48 years (1948-95) and combined for nine Big 12 championships
The game lived up to the hype, and the Sooners escaped another scare this season with a 23-16 victory over the Cornhuskers on the 50th anniversary of the Game of the Century.
Oklahoma opened the game with a 14-play, 75-yard drive with Rattler sneaking in from the 1 to give the Sooners a 7-0 lead.
Then the Huskers responded with their own 14-play drive, but the Huskers was derailed by four penalties (Corcoran with two of the 4 penalties). Connor Culp's career-long 51 yard field goal put the the Huskers on the board.
Nebraska limited Oklahoma to seven first-half points, which marked the first time Oklahoma had been held under 10 points in the first half since being tied with Ohio State 3-3 at half in 2017.Also, it was the first time the Sooners were limited to single digits in the first half at home since being held to six points by Notre Dame in 2012.
Oklahoma Brooks scored a touchdown with 10:24 left in the fourth quarter to put the Sooners up 23-9, marking the first fourth-quarter points Nebraska had allowed in five games dating back to the Minnesota game last season.
With 5:38 left in the game, Martinez found Manning streaking across the middle of the end zone for a touchdown to cut OU's lead to 23-16 after Culp's extra point.
Two missed field goals by Connor Culp, who has missed five of his last six—plus eight penalties and poor offensive line play cost the Huskers again.
Oklahoma's victory extended the Sooners lead in the series to 46-38-3, including a 24-16 edge in games played in Norman and a winner of its last 11 game.
3 Takeaways:
Adrian Martinez still gives Nebraska the best chance to win regardless of what fans may think and is one of the nation's most productive quarterbacks. His ability to make plays with a shaky offensive line play is remarkable. He accounted for 323 yards of total offense, his 16th career game with 300 yards of total offense, extending his own school record. Martinez completed 19-of-25 passes for 289 yards and one touchdown while adding 17 carries for 34 yards and one score. With 289 passing yards, he eclipsed 1,000 passing yards this season and became the first player in school history with four 1,000 yard passing seasons. He reached 1,000 passing yards in his fourth game of the season, joining Tommy Armstrong Jr. in 2015 as the only Huskers to throw for 1,000 yards in the first four games of a season. In addition, he helped the Cornhuskers convert on 6 first downs.

Ethan Piper, a redshirt freshman, who has started the first three games of the season should be benched permanently by offensive line coach Greg Austin. OU defensive lineman Isaiah Coe absolutely bulled over Ethan Piper to block an extra point kick and the Sooners returned it for a safety. In addition, he gave up a sack the final minute of the game. Overall, Piper has been graded out as the second worst offensive lineman and Turner Corcoran being the worst. Martinez has been pressured on 45.7% of all his dropbacks coming into the game and was sacked 5 times today.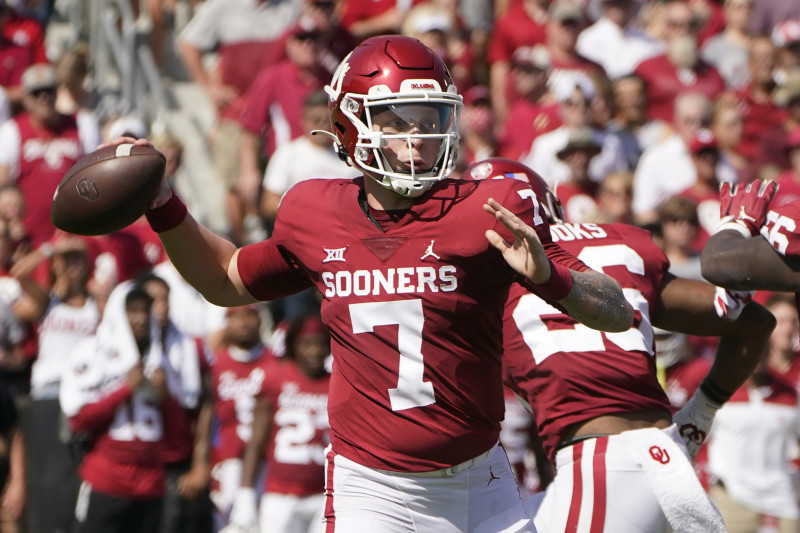 Spencer Rattler did not break his chance to win the Heisman Trophy. Rattler finished with 214 passing yards and 35 rushing yards and accounted for two touchdowns.