Wednesday, March 24
Alamodome – North Court (4 p.m. CT) - #2 Louisville vs. #7 Northwestern, ESPN 2
Louisville trailed most of the first half against Marist last night, however the Cards used a 22 to 1 run in the third quarter to bring the game out of reach for Marist.

Player to Watch: Hailey Van Lith (Louisville)- She led the way with 17 points on 7 of 11 shooting and chipped in 4 assists in 27 minutes played.

Alamodome – North Court (8 p.m. CT) - #3 UCLA vs. #6 Texas, ESPN2
Michaela Onyenwere scored a game-high 25 points, Charisma Osborne posted a double-double with 15 points and 10 rebounds and Natalie Chou added 15 points, as the third-seeded Bruins won their NCAA Tournament opener on Monday at the Frank Erwin Center with a 69-48 win over No. 14-seed Wyoming.

Player to Watch: Charlie Collier (Texas)- Collier finished with 23 points, 15 rebounds and seven of the team's 20 offensive boards against Bradley.

Alamodome – South Court (2 p.m. CT) - #3 Georgia vs. #6 Oregon, ESPN2
Oregon (14-8) scored 19 unanswered points in the first half to put the game out reach against South South Dakota. The Ducks were led by 6-foot-2 forward Erin Boley's 22 points on 9-of-13 shooting.

Player to Watch: Nyara Sabally (Oregon)- She is the younger sister of WNBA player Satou Sabally, added 17 points on 8-of-12 shooting against South Dakota.

Alamodome – South Court (6 p.m. CT) - #2 Texas A&M vs. #7 Iowa State, ESPN2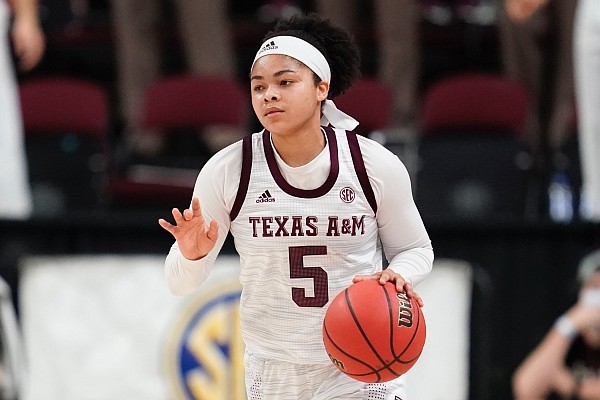 The Aggies are coming off a first round thriller against the Troy Trojans on Monday where A&M came away with an 84-80 victory. The Maroon & White was led by a career-high 21 points from sophomore Jordan Nixon. The New York native had nine points in the final period and went 3-of-3 from the field, including three clutch free-throws as the game wound down. Ciera Johnson dominated the paint with 16 points and 14 rebounds, while Aaliyah Wilson dished out a career-tying six assists and steals.

Player to Watch: Ashley Joens (Iowa State)- She poured in 33 points and is an Associated Press Honorable Mention All-American.
Bill Greehey Arena (Noon CT) - #2 Maryland vs. #7 Alabama, ESPN2


The second-seeded Maryland women's basketball team opened the NCAA Tournament with a 98-45 victory over Mount St. Mary's in the First Round Monday afternoon at the Alamodome.

Five Terrapins scored in double figures. Ashley Owusu led Maryland with 22 points, eight rebounds and seven assists. Diamond Miller added 19 points and Chloe Bibby scored 11 points with 11 boards. Mimi Collins scored 12 points and Angel Reese scored 11 off the bench.

Player to Watch: Jordan Lewis (Alabama)- She logged a near triple-double with a career-high 32 points, 11 rebounds and eight assists. She was one-point shy of tying the program's single-game scoring record in an NCAA tournament game, set by Yolanda Watkins in the quadruple-overtime contest against Duke in 1995.
Bill Greehey Arena (4 p.m. CT) - #4 Indiana vs. #12 Belmont, ESPNU

No. 4 Indiana turned it on in the second half as it cruised to a 63-32 win over VCU in the NCAA Tournament first round on Monday afternoon at UTSA Convocation Center. Junior guard Grace Berger led the way with 20 points as senior guard Ali Patberg and sophomore forward Mackenzie Holmes each added double figures.

Player to Watch: Destinee Wells (Belmont)- World Exposure Report Freshman of the Year finalist Destinee Wells scored 25 points and had seven assists in a turnover-free game in Belmont's win over Gonzaga.

UTSA Convocation Center (2 p.m. CT) - #5 Missouri State vs. #13 Wright State, ESPNU
The 17th-ranked Lady Bears (22-2) led 29-14 midway through the second quarter of their 18th consecutive victory, but UC Davis (13-3) countered with a 12-0 run before opening the second half with a trio of 3-pointers to take a 34-33 lead with 7:42 on the clock, but the Bears dominated the final 17 minutes Monday evening for a 70-51 victory over 12th-seeded UC Davis.

Player to Watch: Jasmine Franklin (Missouri State)- She scored 17 points and grabbed a Missouri State NCAA Tournament-record 18 rebounds.

UTSA Convocation Center 6 p.m. CT) - #3 Arizona vs. #11 BYU, ESPNU
No. 11 seed BYU women's basketball upset No. 6 seed Rutgers 69-66 in the First Round of the NCAA Tournament at Strahan Arena on Monday.
Harding led all scorers at the break with 14 points. She finished the game with a team-high 28 points on 8 of 17 shooting, including 4 of 9 from distance. Harding also shot 8 of 10 from the charity stripe and Gonzales contributed 17 points to go along with six rebounds, four assists and three steals.

Player to Watch: Shaylee Gonzales (BYU)- She was the 2020-21 WCC Co-Player of the Year and finished the season as the WCC's second-leading scorer and leads the team in points (17.9 ppg), assists (3.7 apg) and steals (2.4 spg).