The 2020 NJCAA Division II World Exposure Women's College Head Coach of the Year Award finalists were announced today by World Exposure Report and include Mike Seney (CCBC-Essex), Todd Ciochetto (North Iowa Area), Alison Beasley (Wake Tech) and Mitch Rolls (Labette). The winner will be announced on Friday, March 27th.

About the finalists:
Mike Seney, CCBC-Essex


Seney led his team through the regular season and posted a 12-0 record in conference play, and extended his personal undefeated streak against conference opponents to 99 games. Seney guided the Knights in the first season of its reboot – after a 15-year hiatus – to its first conference title in 38 years and its first regional championship since 1978. The Knights finished the season ranked No. 12 in NJCAA Division II and received the No. 9 seed in the NJCAA Division II Women's Basketball Championship.
Todd Ciochetto, North Iowa Area


Ciochetto's teams have won NJCAA Region XI titles in 2016, 2019 and 2020. In the 2019-20 season, NIACC won the ICCAC regular season title with a perfect record of 16-0. The Lady Trojans advanced to the 2020 national tournament with a 93-75 win over Kirkwood and Ciochetto was selected as the 2019-20 NJCAA Region XI coach of the year. Todd Ciochetto has an overall 153-46 record as the head coach of the NIACC women's basketball team.

Alison Beasley, Wake Tech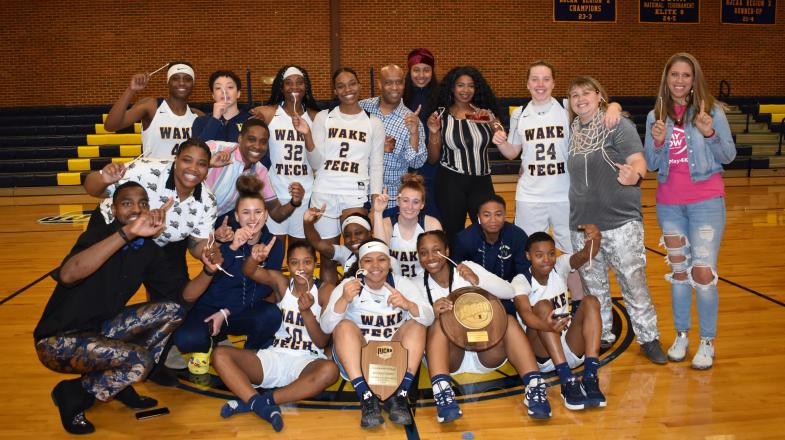 Beasley helped Wake Tech's women's basketball team is earned their first regional championship and an invitation to compete in the National Junior College Athletic Association (NJCAA), Division II Women's National Tournament. In addition, she was named to the Women's Basketball Coaches Association (WBCA) Thirty Under 30.

Mitch Rolls, Labette


Rolls finished his fifth season at the helm of the Cardinals, Rolls broke through with a conference title, posting a 23-4 overall record and a 9-1 league mark. Labette goes into the postseason riding an eight-game winning streak.
The Cardinals ranked fourth in the KJCCC in scoring offense this season at 74.6 points per game. Defensively, the Cardinals were tough allowing only 54.4 points per outing. Opposing teams shot only 34.7 percent and 27.1 percent from distance.