A Grove City Police officer was not injured after being body-slammed by an Eastern Kentucky University football player during an arrest Monday.
Michael Harris is facing a felony charge of assault and misdemeanor charges of resisting arrest, obstructing official business and disorderly conduct while intoxicated. They also found pills and a digital scale in his vehicle.
Police were called to a business because of a disturbance with an aggressive man who did not work there and wouldn't leave. In the call, the woman claimed 19-year-old Harris was being "aggressive" and "did not seem to be 'all there.'"
Officers believed Harris was intoxicated and did not know where he was or know anyone in the area.
In the video recorded by a camera on a Grove City police cruiser, Harris can be seen fighting back as officers tried to talk to him, lunging at officers. He then can be seen lifting one of the officers up and bringing him to the ground.
Officers were finally able to get him in handcuffs. Instead of taking him directly to jail, they sent him to the hospital to get checked out.
Police claim he remained aggressive at the the hospital, so he was sedated by medical personnel before he was eventually taken to jail.
Harris is scheduled to be arraigned on the charges on Wednesday.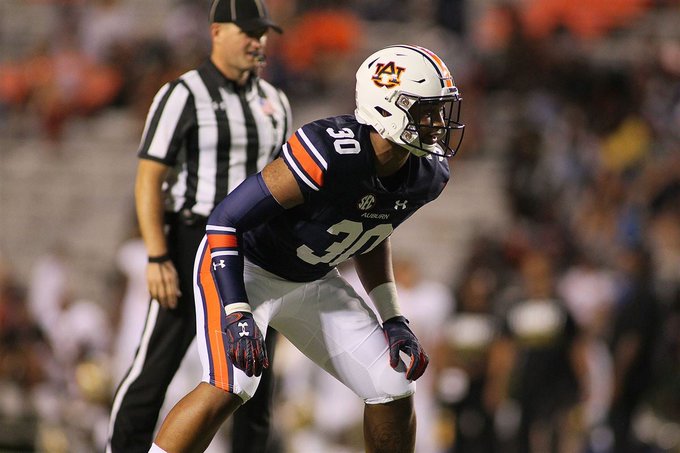 Eastern Kentucky University confirmed that Harris is a redshirt sophomore for their football program.

The 4-star linebacker originally signed with Auburn out of high school and just recently transferred to EKU this month.

Harris played in 11 games last season as a redshirt freshman for Gus Malzahn's Tigers and totaled three tackles in two games. He forced and recovered a fumble in the Tigers' blowout of Arkansas on the road in October. Harris was a backup throughout the season and had yet to play meaningful snaps in an SEC game.

Coming out of high school, he was very vocal about playing for the Ohio State Buckeyes, but the Buckeyes made him wait, so he committed to Auburn.
An Ohio State University spokesman said Harris was not in Columbus to visit Ohio State. Police said they have no idea why Harris is in Central Ohio.
He's being held in the Franklin County jail.